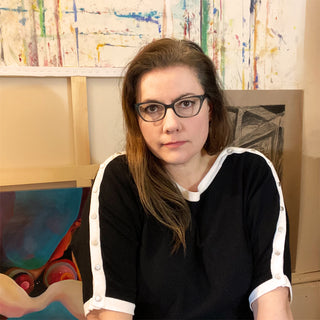 maëry lanahan
Bio/Artist Statement
Seattle based fine artist, maëry lanahan, has been honing her skills as an abstract oil painter for the past several years. Exploring a complex inner landscape, her work offers an insight into the artist's quest for identity. She uses non representational color and form to illustrate emotions, archetypes, psychological exchanges. 
For lanahan, painting is like looking into a windowpane and seeing the reflection of her self, the context in which she lives, and the fusion of these two. Using the canvas as a sounding board, she explores the human condition by extracting basic color and form from recurring memories. 
Many of her works oscillate between two and three dimensional, and figuration and abstraction, an attempt to create a reality which is parallel to but separate from the real world. 
lanahan explains, 'Because I choose when to show gravity, perspective, color and light, I am able to emote through them. I glaze thin layers of oil paint to create rich and luminescent shapes that interrelate based on the concept at hand. In some ways it is like the cloud watching we do as children. We tend to see in the clouds what is already within us. In this way, my art is about discovery.'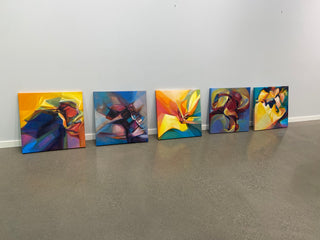 CV
Schooling
1998-2000 The Ohio State University, BFAE, Magna Cum Laude
1996-1998 Antioch College
1995 The School of the Art Institute of Chicago 
Exhibitions + Awards
2022
-Tether The Star Series at Ryan James Fine Arts, Kirkland, WA
-Juried Exhibit Edmonds Arts Festival, Edmonds, WA
-Edmonds Art Studio Tour, Edmonds, WA
2021
-Juried ICON Exhibit, Lynn Hansen Gallery in Seattle, WA
-Juried Exhibit Edmonds Arts Festival, Edmonds, WA
-Edmonds Art Studio Tour, Edmonds, WA
2019
-Cole Contemporary Spotlight Show March 21, 2019 - April 8, 2019, Cole Gallery, Edmonds, WA
-Juried Exhibit Edmonds Arts Festival, Edmonds, WA
-First Place Juried Exhibit, Gallery North in Edmonds, WA
-Edmonds Art Studio Tour, Edmonds, WA
2018
-Honorable Mention, Juried Exhibit Gallery North in Edmonds, WA
2017
-Juried Exhibit Edmonds Arts Festival, Edmonds, WA
2004-2022
-Exhibits at various neighborhood "Art Walks" -Seattle area
2004
-Solo Exhibit "Suspiration" Edison College -Piqua, Ohio